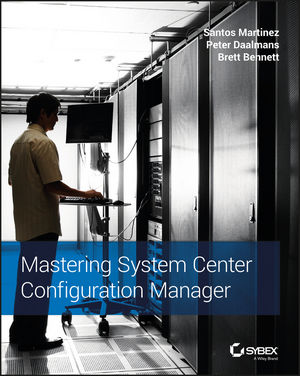 Description:
Your Hands-On, Practical Guide to System Center Configuration Manager
System Center Configuration Manager is one of Microsoft's flagship products. The newest version is fully updated with better Windows 10 and Windows Server 2016 compatibility, improved tools for managing non-Microsoft and BYOD mobile devices in the cloud, and more. Mastering System Center Configuration Manager provides expert, step-by-step direction to guide you through a new installation or a migration from a previous version. Written by a team of Microsoft insiders, it offers a hands-on approach to planning and installation, migration, deploying software and operating systems, security, monitoring and troubleshooting, automating, and customizing. Real-world scenarios show you how to use the tools in a variety of situations, enabling you to get right down to business.

Coverage includes:

Planning a configuration manager infrastructure
Planning and performing a migration
Implementing site servers and installing site system roles
Creating, configuring, and verifying client installation
Deploying applications
Managing the software update process
Preparing for and enacting operating system deployment
Installing SQL Server® reporting services
Handling compliance settings and endpoint protection
Restoring, recovering, and troubleshooting Configuration Manager
Manage Security in the Cloud and on Virtual Machines
Automate Processes and Customize Configurations
Monitor Performance and Troubleshoot Problems
Streamline Bring-Your-Own Devices into Your Everyday Workflow
Create a Complete Disaster Recovery Plan

Authors:


Santos Martinez has over fifteen years of experience and worked on major implementations and support of Configuration Manager and Enterprise Mobility and Security. He has been both a SQL Server MVP and Configuration Manager MVP. Currently, he is a Senior Premier Field Engineer for Microsoft.

Peter Daalmans is a Senior Technical Consultant in the Netherlands with a primary focus on Configuration Manager and Enterprise Mobility. Peter has been awarded a Microsoft Enterprise Mobility MVP every year since 2012. Peter writes blogs, and shares his knowledge on his blog, ConfigMgrBlog.com. More information about Peter can be found at https://ref.ms/aboutme.

Brett Bennett is currently a Senior Premier Field Engineer at Microsoft, and has been with Microsoft for over 10 years. Brett has worked with Systems Management Server/System Center Configuration Manager since 1994, and has provided consulting and advisory services to many Fortune 100 and Fortune 500 companies over his 30-year career in the computer industry.


Order your copy here!